Greensboro LASIK and Cataract Surgeon
Dr. Jonathan D. Christenbury, M.D., F.A.C.S.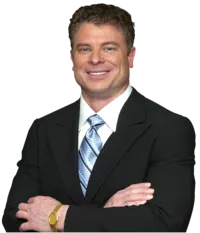 Trusted LASIK Surgeons
Dr. Jonathan D. Christenbury, M.D., F.A.C.S.
Dr. Jonathan Christenbury treats patients seeking LASIK, refractive and cataract surgery from Charlotte, Greensboro, Raleigh, Asheville and Winston-Salem, and throughout North and South Carolina.
Over 25 years of experience with over 100,000 LASIK and 8,000 Multifocal procedures performed
98% of patients see 20/20 or better
Most experienced LASIK and TECNIS Multifocal surgeon in the Carolinas
---
Dr. Jonathan Christenbury has extensive qualifications that Trusted LASIK Surgeons estimates place him among the top LASIK laser eye surgery and refractive surgeons and cataract surgery specialists in the United States.
For your convenience, these credentials and criteria have been grouped by Experience, Premier Patient Care and Credentials. In addition, Dr. Christenbury has included some additional career highlights that while not used by Trusted LASIK Surgeons in our screening process, clearly demonstrate his highly distinguished career as a true pioneer in advancing vision correction surgery throughout the world.
Dr. Christenbury's qualifications and credentials as one of the top LASIK surgeons and cataract surgery expert include:
Experience
First eye surgeon in North Carolina to perform LASIK
Dr. Christenbury is the #1 most experienced LASIK and refractive surgeon in the Carolinas
Dr. Christenbury has performed more vision correction for physicians, health professionals, law enforcement, first responders, and teachers than any other surgeon in the Carolinas
Over 25 years experience in cataract surgery (including cataract surgery with lens implants)
Performed over 100,000 LASIK and laser vision procedures/li>
Over 10,000 Multifocal procedures performed to eliminate reading glasses and bifocals

LASIK, PRK laser eye surgery, cataract surgery, intraocular lens (IOL) implant procedures, including toric lenses, and multifocal lenses
Employment
Christenbury Eye Center

Jonathan D. Christenbury, M.D., P.A., Private Practice
Premier Patient Care
"All-Laser" LASIK (bladeless) using the IntraLase laser
Use of iLASIK Procedure- WaveScan Technology, IntraLase, and Visx Advanced CustomVue treatments
Offers complete refractive surgery care
---
Professional Society and Organizations- Membership and Affiliations

American Academy of Ophthalmology (AAO)

International Society of Refractive Surgery (ISRS)
American Society of Cataract and Refractive Surgery (ASCRS)
North Carolina Society of Eye Physicians and Surgeons
North Carolina Medical Society
North Carolina Chapter, American College of Surgeons
Mecklenburg County Medical Association
American Board of Eye Surgeons
American Medical Association
European Society of Refractive Surgeons
American Society of Ophthalmic Plastic & Reconstructive Surgery
International Society of Bilateral Cataract Surgeons
American College of Ophthalmic Surgery
Hospital Staff Appointments

Presbyterian Hospital, Charlotte, NC
Carolinas Medical Center, Charlotte, NC
Carolinas Surgery Center, Charlotte, NC
Certified by American Board of Ophthalmology
Publications:

5 peer-reviewed scientific journal articles published
Presentations, Lectures, Panels, and Courses

Over 20 lectures and presentations on research topics at major eye meetings
Served on over 10 vision correction and other eye related panels at major ophthalmology meetings
Taught 5 courses at major eye meetings
---
Intralase – World's most experienced IntraLASIK Surgeon – 2002
Intralase – Pioneer Award – November 2003
Fortune 500
---
Undergraduate: B.S. Biology/Chemistry, Oral Roberts University, Tulsa, OK
Medical School: M.D., Duke University School of Medicine, Durham, NC

Resident in Anesthesia, Duke University Hospital, Durham, NC
Internship: Internal Medicine, Baylor College of Medicine, Houston, TX
Residency: Ophthalmology, Duke University Eye Center, Durham, NC
Locum Tenens in Ophthamology at Barr Eye Center, Stockton, C
Fellowship, Ophthalmic Plastic and Orbital Surgery, Jules Stein Eye Institute, UCLA, Los Angeles, CA
---
Jonathan Christenbury, M.D.
LASIK and Cataract Surgeon Expert Dr. Jonathan Christenbury, M.D. is the Medical Director of the Christenbury Eye Cente. Dr. Christenbury is one of the nation's foremost authorities in laser vision correction. In the early nineties, Dr. Christenbury performed the very first LASIK procedure in the Carolinas. Over 100,000 LASIK procedures later, he is known as one of the most experienced LASIK surgeons in the world. As an eye doctor, Dr. Christenbury has earned a reputation for his passion for mastering new technologies and his commitment to making the benefits of these technologies available to his patients. He has been performing Custom Wavefront LASIK , the safest, most precise vision correction technology available, since 2005.
In addition to his accomplishments in laser vision correction, Dr. Jonathan Christenbury is also the most experienced TECNIS® Multifocal surgeons in the U.S., having performed over 10,000 procedures. TECNIS® is a multi-focal lens procedure that helps patients with "over-40" vision achieve better vision at every distance.
Dr. Christenbury is a graduate of Duke University School of Medicine. He completed his residency in ophthalmology at the Duke Eye Center and spent a year in fellowship training at the Jules Stein Eye Institute, UCLA. Dr. Jonathan Christenbury has reached the highest level of distinction in his field as a fellow of the American College of Eye Surgeons and the American Society of Ophthalmic Plastic and Reconstructive Surgery.
View Curriculum Vitae of Dr. Jonathan Christenbury
Please call (704) 332-9365 or visit Christenbury Eye Center today for your free LASIK consultation with a trusted expert LASIK and TECNIS Multifocal eye surgeon and vision care specialist who is also a cataract surgeon with proven expertise.
You now have accurate information and a direct contact to an exceptional surgeon. Dr. Jonathan Christenbury and his exceptional staff are looking forward to meeting with you.
Thank you for visiting us at Trusted LASIK Surgeons.
---
To find a vision correction expert surgeon who has qualified to be listed at Trusted LASIK surgeons in another area, please visit:
Find a Trusted LASIK Eye Surgeon
The screening process and standards used by Trusted LASIK Surgeons™ can be found at: