Virginia Beach LASIK and Cataract Surgeon
Dr. Tom Edmonds, M.D.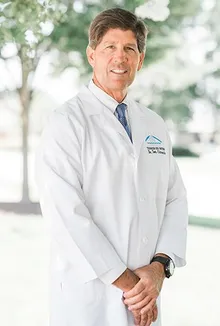 Trusted LASIK SurgeonsTM and Trusted Cataract SurgeonsTM
Dr. Tom Edmonds, M.D.
Dr. Edmonds has been Featured by the Health Journal as one of the top two ophthalmologists in South Hampton Roads, Virginia.
Dr. Edmonds' practice, Tidewater Eye Centers was voted "Best Place for Laser Surgery in Hampton Roads" by the Virginian Pilot
Previously voted "Best Place for Lasik Surgery" in Portsmouth and Virginia Beach.
Dr. Tom Edmonds treats patients seeking LASIK, refractive and cataract surgery in the Hampton Roads area with offices in Virginia Beach, Chesapeake and Portsmouth and throughout Norfolk, Suffolk, Newport News, Williamsburg, Elizabeth City in Virginia and the Outer Banks of North Carolina as well as patients from the rest of the United States
Categories
Credentials and Qualification
Experience
Premier Patient Care
Professional Credentials
Additional Career Highlights
Education
Surgeon Bio
---
Phone: (757) 483-0400
LASIK Text Line: (757) 434-0442
Locations:

Virginia Beach, VA
1564 Laskin Road, Suite 192
Virginia Beach, VA 23451
Chesapeake, VA
805 N. Battlefield Blvd, Suite 111
Chesapeake, VA 23320
Portsmouth, VA
3235 Academy Avenue, Suite 200
Portsmouth, VA 23703
Special discount* Special discounts on LASIK and other elective surgery procedures offered by Dr. Edmonds available to members of the U.S. military, local police and fire departments and certain Blue Cross/Blue Shield or EyeMed insurance.

---
Dr. Tom Edmonds has extensive qualifications that Trusted LASIK Surgeons estimates place him among the top LASIK laser eye surgery and refractive surgeons and cataract surgery specialists in the United States.
For your convenience, these credentials and criteria have been grouped by Experience, Premier Patient Care and Credentials. In addition,Dr. Edmonds has included some additional career highlights that while not used by Trusted LASIK Surgeons in our screening process, clearly supplement his highly distinguished career.
---
---
---
Dr. Tom Edmonds was born and raised on the Eastern Shore of Virginia and has been practicing Ophthalmology in the Hampton Roads area since 1995. Over the years, Dr. Edmonds has earned a reputation as one of the area's finest and most innovative surgeons. He performed the areas first "no-needle, no-stitch" cataract procedure and was the first to implant the Restor multifocal lens after cataract surgery. He was also the first to perform Custom Lasik surgery and is one of only six Virginia Eye Surgeons to be Board Certified in Lasik Surgery by the American Board of Eye Surgeons. The Hampton Roads Health Journal recently recognized Dr. Edmonds as one of the two top Ophthalmologists in Virginia Beach, Chesapeake, Norfolk, Portsmouth, and Suffolk. Having performed over 10,000 cataract and refractive procedures, he is one of the most experienced surgeons in Virginia.
Dr. Edmonds received an undergraduate degree from the University of Virginia before earning a medical degree from Eastern Virginia Medical School. Dr. Edmonds fine-tuned his medical skills during an internship at Riverside Hospital, a pre-residency Ophthalmology fellowship at the Medical University of South Carolina, and a residency at Tulane University. He also worked in New Orleans for three years, teaching at the Tulane University School of Medicine, while building a successful general ophthalmology practice. After returning to Virginia in 1995 he became one of the founders of Tidewater Eye Centers and served as its president for several years.
Dr. Edmonds prides himself on providing every patient with attentive personalized care. Learning from his grandfather and father, who were the only physicians in a small Virginia town, Dr. Edmonds understands the importance of maintaining open communication and trust with each patient. Dr Edmonds performs every pre-operative workup himself and takes the time to thoroughly explain the procedure, answer any questions, and identify the individual needs of each patient. He believes success lies not in volume, but in the quality of his surgical results and the patient's satisfaction.
Dr. Edmonds currently resides in Virginia Beach with his wife Bebe, who is a practicing dermatologist. They have three girls and who attend high school locally and are very active in volleyball. Dr. Edmonds is an active member of the community and serves on numerous local church, civic, and medical boards. He was selected by his peers as the physician representative on the Harborview Surgery Center Board and represents Hampton Roads on the Board of the Virginia Society of Eye Physicians and Surgeons. For over 20 years, Dr. Edmonds has taken part in Mission Cataract, providing free cataract surgeries for those that do not have the means to pay for it.
View Chesapeake, Virginia Beach LASIK Surgeon Dr. Tom Edmonds Curriculum Vitae
Appointments and Information
Please call (757) 483-0400 or visit Tidewater Eye Centers today for your free LASIK consultation with a trusted expert LASIK eye surgeon and vision care specialist who is also a cataract surgeon with proven expertise.
You now have accurate information and a direct contact to an exceptional surgeon. Dr. Tom Edmonds and his exceptional staff are looking forward to meeting with you. Your questions and concerns are welcome.
Thank you for visiting us at Trusted LASIK SurgeonsTM.
To find a vision correction expert surgeon who has qualified to be listed at Trusted LASIK Surgeons™ and Trusted Cataract Surgeons™in another area, please visit:
Find a Trusted Cataract Surgeon™

The screening process and standards used by Trusted LASIK Surgeons™ can be found at:
How Are LASIK and Cataract Surgeons Qualified at Trusted LASIK Surgeons™ and Trusted Cataract Surgeons™