LASIK, Cataract and Vision Correction Expert Surgeon
Dr. Ella Faktorovich, M.D.
San Francisco, Oakland, Berkeley, Peninsula, Marin, East Bay, South Bay areas as well as Sacramento, Stockton, Rancho Cordova, and Woodland communities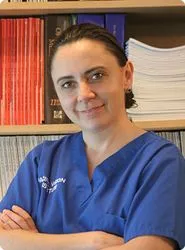 Trusted LASIK SurgeonsTM and Trusted Cataract SurgeonTM
Dr. Ella Faktorovich, M.D..
Dr. Faktorovich is Director Pacific Vision Institute and is Founder and Chair of the Cornea, Cataract, and Refractive Surgery Symposium and Pacific Vision Institute Research Foundation
Dr. Ella Faktorovich Department of Ophthalmology, UCSF Veterans Administration Medical Center San Francisco, CA
Dr. Ella Faktorovich has presented over 50 presentations at major meetings of ophthalmologists worldwide.
Dr. Faktorovich has been honored with awards and accolades from various institutions in the United States and throughout the world. Her accomplishments have led to her reputation as a leading vision correction specialist. Some of her honors and awards include:

Guide to America's Top Ophthalmologists in Corneal and Refractive Surgery
Best Doctors in America
415 Top Doctors
---
Dr. Ella Faktorovich has extensive qualifications that we estimate place her among the top LASIK and refractive surgeons in the United States.
For your convenience, these credentials and criteria have been grouped by Experience, Patient Care and Credentials. In addition, Dr. Faktorovich has included some additional career highlights that while not used by Trusted LASIK Surgeons in our screening process, clearly supplement her highly distinguished career.
Dr. Faktorovich's qualifications and credentials as one of the top LASIK surgeons include:
Experience
Performed the first Automated Lamellar Keratoplasty procedure at UCSF Medical School Department of Ophthalmology
Performed the first IntraLase LASIK procedure in San Francisco
Over 10 years experience in laser vision surgery, including PRK and LASIK
Over 15 years experience in refractive surgery
Performed over 20,000 LASIK and laser vision procedures including PRK and LASEK
One of the few surgeons in Northern California to perform Intacs for keratoconus and other corneal thinning conditions
Performs corneal transplantation in adults and children
Premier Patient Care
Use of Intralase system for "All-Laser" or "Bladeless" LASIK
Use of Wavefront Based ("Custom") LASIK and PRK
Use of iLASIK Procedure- WaveScan Technology, Intralase, and Visx
Advanced CustomVue technologies
Utilizes all in house, self-owned current instrumentation for the diagnosis and treatment of refractive eye surgery: Wavefront aberrometry (VISX, ALCON, Wavelight), corneal topography (Oculus Pentcam, Humphry Allas, Wavelight Topolizer), intraocular and refractive lens implants (IOL Master, Zeiss), VISX S4 excimer laser with Iris Registration hardware and software, Wavelight Allegretto Excimer laser, YAG laser, digital corneal photography
Pacific Vision Institute offers complete refractive surgery care, including LASIK, PRK, RLE / CLE, CK (Conductive Keratoplasty), Phakic Implants, Limbal Relaxing Incisions, and cataract lens implants procedures
Management of complications of surgery for new patients who had problems from a surgery performed by another doctor
Other eye surgeons, optometrists, opticians, employees of companies that specialize in refractive surgery instrumentation or their family members have had their LASIK and other refractive surgeries performed by Dr. Faktorovich
---
American Academy of Ophthalmology (Member)
American Medical Association (Member)
American Society of Cataract and Refractive Surgery (Member)
International Society of Refractive Surgery (Member)
California Medical Association (Member)
San Francisco Medical Society (Member)
San Mateo Medical Society (Member)
Peninsula Eye Society (Member)
Association for Research in Vision and Ophthalmology (Member)
Academic Appointments:
American Journal of Ophthalmology (Reviewer)
Journal of Cataract and Refractive Surgery (Reviewer)
Journal of Refractive Surgery (Reviewer)
San Francisco Medicine Magazine, the journal of the San Francisco Medicine Journal of San Francisco Medical Society

Member of Editorial Board

Ophthalmology Management

Member of Editorial Board

Published over 12 peer-reviewed scientific journal articles
Author of over 4 text book chapters in textbooks and 1 textbooks related to vision correction

Book publication "Femtodynamics: A Guide to Laser Settings and Procedure Techniques to Optimize Outcomes with Femtosecond Lasers."

Over 50 presentations at major meetings of ophthalmologists worldwide.
---
Highlighted as a HauteMD Expert on HauteMD.com,
online magazine and exclusive directory of top medical professionals
Named to Top 100 Health Professionals in the World
Named in Who's Who in Ophthalmology
Named one of the "Best Doctors in America"
Developed a novel medication to protect retina from degeneration
FDA approval for Investigational New Drug of analgesic medication to improve comfort after PRK and LASEK
Founded the not-for-profit Pacific Vision Institute Research Foundation in San Francisco to study corneal and refractive eye surgical procedures and to provide educational opportunities to students pursuing interest in vision science
Founded the Annual San Francisco Cornea, Cataract, and Refractive Surgery Symposium
Developed extensive network with primary eye care providers in the Bay Area focusing on patient and doctor education
Member of Haute MD, an exclusive, invitation-only directory of medical professionals, and contributor of articles to their website
---
---
Dr. Ella Faktorovich, has devoted her career to the research, teaching and practice of advanced vision correction techniques. She has set the standard in the Bay Area for innovation, leadership and perfection. Her career is filled with a series of industry-firsts - in procedures conducted, certification obtained, new findings published and equipment used. She is one of the select group of surgeons in the U.S. to specialize exclusively in refractive and laser eye surgery and has performed tens of thousands of procedures.
After graduating Phi Beta Kappa from UC Berkeley, Dr. Faktorovich received her Medical Degree with honors from UCSF School of Medicine. After her ophthalmology residency at UCSF, she devoted two years to advanced sub-specialized training and research in laser and refractive surgery at the Jules Stein Eye Institute, UCLA School of Medicine. And while at the UCSF Department of Ophthalmology, she was one of the first surgeons in San Francisco to perform automated lamellar keratoplasty - a precursor to the LASIK procedure to correct nearsightedness. She has developed methods for intra-corneal implantation of ultra-thin lenses to correct nearsightedness and. farsightedness. She is highly respected in her field and has published and presented both nationally and internationally.
Dr. Faktorovich has received dozens of awards and honors for her dedication and innovation in her field. Her research on corneal healing following laser vision correction has advanced the field of refractive surgery. In addition to publishing numerous articles, abstracts and book chapters on corneal transplantation and laser and refractive surgery, she has lectured extensively both in the United States and abroad. She is currently on the faculty of the San Francisco VA hospital department of ophthalmology, and it's Cornea Clinic. She is also the founder remains the chair of the annual Cornea, Cataract, and Refractive Surgery Symposium and Pacific Vision Institute Research Foundation.
Dr. Faktorovich's commitment to innovation and the advancement of refractive options for patients has led her to be considered one of California's leading ophthalmologists. She is listed in the Best Doctors in America and in the Top 100 Health Professionals in the World. Under her leadership, Pacific Vision Institute invests in the most state-of-the-art technology of any refractive surgery practice in San Francisco. She lives in Burlingame with her husband, her daughter, and their two Doberman Pinschers.
For Appointments, Information, Consultation & Surgery Call (415) 922-9500
View the Curriculum Vitae of Dr. Ella Faktorovich
---
To find a vision correction expert surgeon who has qualified to be listed at Trusted LASIK surgeons in another area, please visit:
Find a Trusted LASIK Eye Surgeon
The screening process and standards used by Trusted LASIK Surgeons™ can be found at: